Judo BC News Letter Updated
Dojo Instructor Course Kamloops Nov 23 - 25
Tuesday, November 13th is the last day to register for this course. Click here for more details and the registration form. For more information about Coaching Courses and NCCP click here.
---
Grading Reminder
To all club Senseis, please submit the names of candidates for promotion to the Chair of the Grading Board by Nov. 17, 2012 for the Dec. 2 grading. Candidates must have the appropriate time in grade and points to this date, Judo Canada passport and be a paid up member.
---
Homestay Families Needed
Homestay Families are needed during the 2013 Pacific International, being held in Richmond February 16th, for visting Brazilian Judokas. Families could host 1 or more athletes and should be able to take them sightseeing some days and to Judo most nights. Please contact info@judobc.ca if you are available to host.
---
IJF announces the 2nd Annual World Judo Day was 2 Times More Successful!
This year, the goal was for the national federations, the clubs, and generally speaking for all the judoka, to organize an event in connection with the World Judo Day and its theme of Judo for All. The idea, thanks to its simplicity, has brought together for a few minutes or several hours, judo players from all over the world, whatever their level or background was. If last year, 35 countries organized fifty projects, it is nearly 70 countries and more than 100 projects that were proposed to the IJF in 2012. This represents twice as many countries and projects than in 2011.
---
J

udo BC Board Member Silver Medalist at World Masters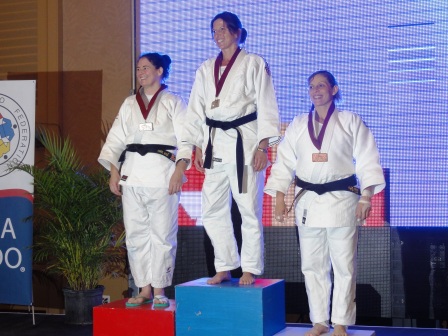 Congratulations to Sandra Hewson (left), Judo BC's 2nd VP, on her success at the 4th IJF Grand Masters World Judo Championships in Miami, Florida. For more information about the event and all the results click here.
---
Coaching Conference Featured in Local Newspaper
Local Squamish newspaper,The Chief, interviewed Olympic Medalist Nuno Delgado and BC's own Head Coach Bruce Kamstra during the 2012 National Coaching Conference held at the end of October. Click here to read all about it and to see a picture of Lisa Nakajima and Kane Morshita with Nuno Delgado!
---
Sad News
Mr. Serge Piquette, former President of Judo Canada, died peacefully on Oct 31st. Mr. Piquette, 6th degree dan, was the President of Judo Canada from 2002 to 2008 and was the former Chair of Quebec Grading Board. The judo community across Canada is saddened by this news. Our thoughts go out to the Piquette family. A memorial service is being held in Quebec on November 24th.
---
Message from the President of Judo Canada
Dear Fellow Judoka, It has been a busy month and a half as President of Judo Canada. I would like to thank everyone who has sent congratulations to my new position. I thought I would send out a note on the happenings since I was elected September 15, 2012. Click here to read more.
---
Upcoming Judo BC events (click on the file for the technical package)
November 17 - Steveston Tournament, Richmond BC
December 1 - Canada West Tournament, Burnaby BC (Sr Provincial Team Selection Event)

December 2 - Sr Provincial Team Training Session, Burnaby BC

December 27 to 30 - Judo BC Winter Training Camp (Jr & Sr Provincial Team Selection Event)

January 19 & 20 - Sask Open

January 26 - Fernie Tournament, Fernie, BC

February 2 - Vancouver International, Richmond BC

February 16 - Pacific International, Richmond BC (Jr & Sr Provincial Team Selection Event)

February 17 - Jr Provincial Team Training Session, Richmond BC

February 23 - Invermere Tournament, Invermere BC